If you're ever a craft lover who loves to decorate garments, cups, and more home decor for your own and your beloved people, sublimation is a must for you! Sublimation printing is an increasingly prevalent technique to transfer designs and images onto various materials, including fabric, ceramics, and metal. It always asks for heat and pressure to complete the process. When done correctly, sublimation printing can make results in vibrancy and premium quality with a long-lasting finish. 

Why does my sublimation look faded?
However, to churn out a bunch of perfect projects, it's essential to understand the reasons "why is my sublimation faded." In fact, the brightness of the printed design may vary depending on an abundance of factors, such as the type of printer, the sublimation paper, the ink, the substrate, and the wrong method. 

You may find that the final result will get faded over time and when it gets in touch with water. That's probably because the target substrate didn't feature a poly or sublimation coating. This way, the ink cannot be transferred properly.

Using the wrong ink will definitely damage your final design. The regular ink is not like the special sublimation ink, so it's not able to adhere firmly to the surface of the sublimation paper and, therefore, transfer perfectly to the substrate.

Meanwhile, if you're using a 100% cotton garment to realize the sublimation prints, the possible outcome can be a less bright and vibrant image since the cotton cannot absorb the ink perfectly.

Except for these, there are more reasons why the sublimation prints look faded. And to avoid that, here are some tips on how to make sublimation printing brighter.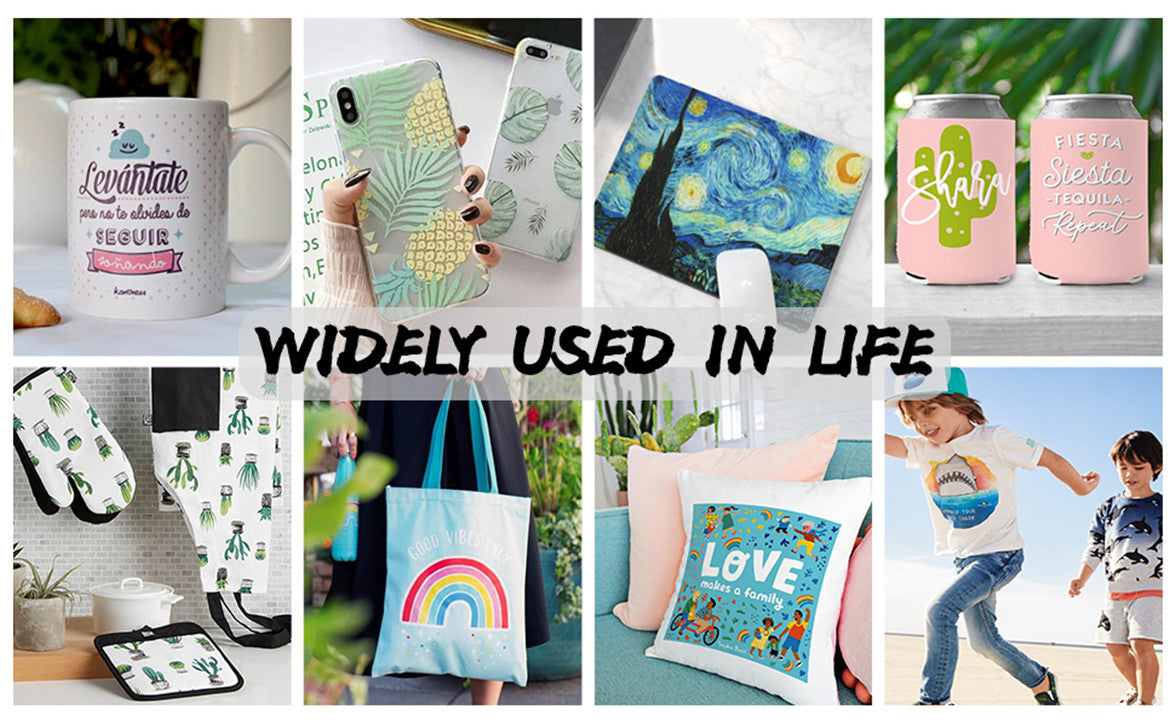 How to make sublimation brighter?
Use high-quality sublimation paper.
Before diving into a practical sublimation print process, it's crucial to be aware of getting yourself the premium sublimation paper. As we all know, good materials can always bring the highest possibility of producing bright and perfect sublimation prints. 
When choosing sublimation paper, look for a brand that offers a high-quality product with a high transfer rate. Usually, an over 98% transfer rate allows the ink to transfer easily and quickly onto the substrate. As HTVRONT Sublimation Paper, it features a 98% high transfer rate and drys fast after printing, offering an efficient and smooth sublimation printing experience.

Be sure to follow the specific instructions for your printer and paper to ensure optimal results.

Use compatible ink and printer.
Do not use regular ink for sublimation crafts. Using exclusive sublimation ink is critical to achieving bright and vibrant sublimation prints. The ink should provide rich, vivid colors that are resistant to fading and washing. Also, the sublimation ink needs to be compatible with your printer. You are allowed to turn your home inkjet printer into one for sublimation printing, or you can directly get a sublimation printer to achieve the best possible results.

Optimize your printer settings.
Optimizing your printer settings is also important. A quality printer setting with high resolution can help produce brighter and sharper sublimation prints. Make sure to check your printer's user manual to ensure you are making the settings correctly for the type of paper you're using. Typically, the settings should be adjusted for higher ink coverage to obtain richer colors.

Clean your printer regularly.
Cleaning your printer frequently is an excellent method to ensure it runs smoothly and appropriately. Check your printer's instructions on how to clean it properly to remove any dust, debris, or clogged heads. Do not let this stuff get in your way of making ideal creations. As you know, a clogged printer head could cause your prints to have lines that are less vibrant and even damage the whole sublimation print.
Using a heat press machine to transfer designs onto substrates allows you to craft bright and vibrant results rather than a home iron. The correct temperature and time for the press should be set to optimize the ink transfer from the paper onto the substrate. Be sure to choose a good quality heat press machine that has accurate temperature and pressure controls, and it's better to feature an LCD screen for an intuitive display so that you can monitor the process effortlessly. 

Choose the suitable substrate.
You need to pay attention to three things when churning out your sublimation crafts. First, always be sure to apply the sublimation technique to a heat-resistant object. Since sublimation printing asks for a higher temperature than heat transfer, the target substrate must be capable of resisting high heat.

Second, apply the substrate with a sublimation or polyester coating. Items without such a special coating cannot grab the sublimation ink firmly, and therefore, the final design will turn out to fade easily.

Last but not least, adopting a 100% polyester object would gain you a fantastic project. It's tested that the polyester material can be the most suitable medium for absorbing the sublimation print. If you're using a 100% polyester shirt, the design can be extraordinarily brilliant and vibrant lasting for a pretty long time.

How To Make Sublimation Brighter After Heat Press?
For this situation where you have already done everything on your sublimation crafts and the results are still dull, you may consider to re-sublimate again on the same spot. It's not recommended for all cases, but it does work when you do it properly.

Put a clean parchment paper on top of the previously printed shirt and re-heat it at the temperature of 330F for 25 seconds. It's like magic to see the faded prints emerging with a better color brilliance and vibrancy.

How To Make Sublimation Brighter On Mugs & Tumblers?
And if you're looking for ways how to make my sublimation prints brighter on the mugs, you just need to check the quality of the ink and sublimation paper and ensure that the paper goes along with the sublimation printing on the right side. What's more, poly-coating on the surface of your sublimation mug also plays an indispensable role in making the sublimation brighter. Always be aware of the quality of poly-coating while buying your sublimation mugs and tumblers.