Making a custom acrylic keychain with glow-in-the-dark powder can be a really amazing idea to help add one more unique and eye-catching touch to any accessory. How cool it is to see your custom acrylic keychains on bags shine vividly at night! And your kids must love them so much!

What are you waiting for? Come and follow us to dive into this entertaining craft topic!

What is needed for the Custom Acrylic Keychain?
To begin, you will need to gather the essential materials, including:
1. Clear acrylic keychain blanks, key rings, and tassels; 
2. Glow in The Dark Powder;
3. Sublimation Paper and ink;
4. An Inkjet Printer 
5. Heat Press Machine, oven, or heat gun;
6. Scissors or an art knife;
7. UV Resin and UV light. 
The acrylic keychain is quite prevalent in the crafting market, therefore, there's no need to buy some acrylic instead of straightforwardly buying ready-made blanks.
It's easy to find the acrylic keychain sets online and get the glow-in-the-dark powder at any craft store nearby. As for the paintbrush, an oven or a heat gun (Both work well, but a heat gun is much recommended to work efficiently without baking twice.) can be found at most hardware stores. But if you have tried heat transfer projects before and own a heat press, that would be the best!
My accessories here are mainly from HTVRONT, which is an overall handicraft brand with a variety of creative materials and machines. Hence, you can always find easily many kinds of DIY necessities and even advanced devices.
The glow-in-the-dark powder set combines 12 colors displaying an iridescent sheen when it comes to dark places. These powders are reusable with only enough duration under UV light. Except for these acrylic keychains, you can also apply the special powder to wall murals, home decorations, shiny candles, body lotions, cosmetic beautifiers, paintings, and even crafting slime, etc.


Sublimation Paper is one of the most popular hit crafts! Since its unique ink and technique are required, this paper can be used on an abundance of surfaces like polyester, wood, glass, metal, acrylic items, ceramic, and other heat-resistant things and bring them vibrant and rich colors!


Unlike an oven or a heat gun, a heat press machine will take you to a broader crafting world. It can work as an iron at home to smooth out the creases on your fabrics and also help heat transfer the stunning designs on some materials to various surfaces. Furthermore, a portable heat press machine is more lightweight, convenient, and easy to store than a giant buddy.
https://www.htvront.com/products/easy-press-mini-heat-press-machine-for-t-shirts

Once you're ready about these items, get on quickly into your official practice!

How to make acrylic keychains with Glow in The Dark Powder?
How to make acrylic keychains? Just read carefully and follow my lead. I believe making acrylic keychains will turn out to be as easy as a breeze for you!

And if you are a video liker, then you are able to make the creation via checking the tutorial below: 

Before you start your project, it's important to remember to practice safely. To do just that, you can wear protective gloves and eye protection when handling the glow-in-the-dark powder to avoid the connection between the powder and the eyes. And be sure to follow all safety instructions when using the heat press machine, preventing kids and pets from the heat plate while in use.

First, let's start by choosing ideal images from the computer. Set a proper size to maintain high-quality performance so as to show a much more transparent and brighter color when printing. Here, remember to print the sublimation paper with the specific ink and an inkjet printer. 

Then, gently mark the shape of your acrylic keychain blanks on the sublimation paper with a pencil and then cut it out with a pair of scissors or an art knife. Cover the acrylic keychain blanks with the printed images facing inside, and fix the sublimation paper with heat-resistant tape. Place a Teflon sheet on top to avoid touching the heat plate directly.

Preheat the heat press machine to 180℃ and apply it on the custom acrylic keychains for 40-60 seconds. Warm peel the paper and images have been transferred.

Once you have the sublimation completed, you can then prepare your glow-in-the-dark powder. Try mixing a small amount of the powder with some UV resin and stir until it is a thick paste with the powder filled in evenly. Or, you just put on a thin layer of resin, pour the powder on the surface of the acrylic keychain, and put it under the UV light for 20 seconds.

You must be careful to protect your work area with a disposable tablecloth and not spill the resin out. If there's a situation where the resin gets on your skin, rinse immediately with water and soap.

While finishing the custom acrylic keychains, make sure to spread the paste or the resin evenly and cover the entire surface. This will ensure that the paste fully adheres to the keychain and creates a smooth and permanent bond.

When your keychain is finished layering, it should be ready to use. You can now enjoy your custom acrylic keychain with its unique glow-in-the-dark design. Whether you're using it as a keychain or as a decorative item, this project is sure to turn heads and brighten your surroundings up with a personalized and youthful zest!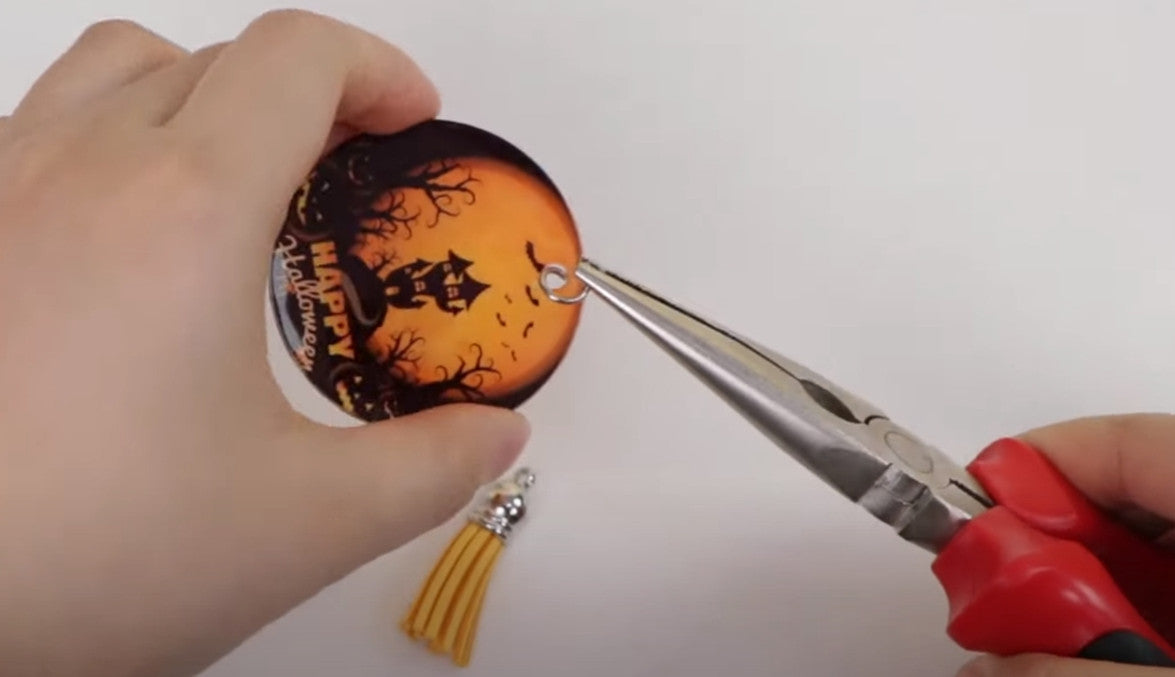 In addition to the materials and tools mentioned above, you may also want to consider adding up some sealant or one more layer of UV Resin to help protect the acrylic from scratches and other damage. You can find sealant at most craft stores and hardware stores. Picking up a few extra supplies, such as adhesive vinyl designs and printable paper stickers, can also help you customize your keychain even further.