Purchase
Key Features
Reviews
Buy It Now
Buy
Discounted price of $251.99
Limited time deal:$44 off
Great price of $285.99
$70 HTV Lucky Bag will be shipped with your order
Special Feature
Auto Pressure-exertion
Advanced lifting system applying the pressure automatically.
Zero-push Operation
One-button start saving energy and complicated assembly.
2X Fast Heating
Dual-zone heating engine speeds up heating time.
All Round Uniform Heat
NTC thermistor technology heats the 15*15 plate evenly.
Hassle-free Smart Modes
7 presets enhancing efficiency—4 "Fast", 2 "Cutomed", 1 "Auto".
High Standard Security
Drawer design, multi-layer thermal insulation, plus auto-off feature
Comparison
Use Suggestions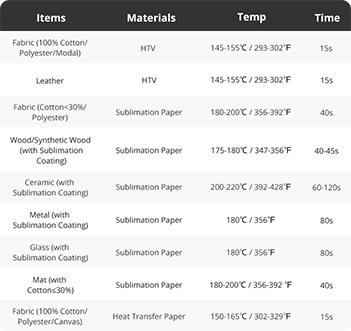 Demo Video
Check out how HTVRONT Auto Heat Press works with different materials!  From fabric to wood, it can be suited to your different creative projects.
Buy It Now
Specifications