Get to learn about the best value for money heat press with pressure transducers!
To make ideal handicrafts at home, you have to understand what kind of tools you need for your project in the first place. The most essential one has to be HEAT PRESS MACHINE.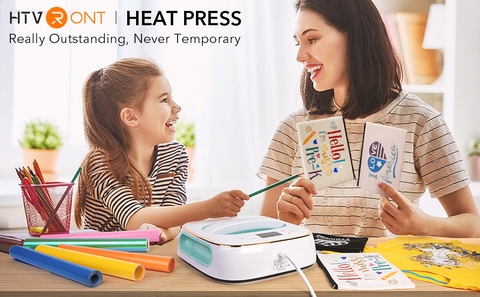 Heat Press Machine works as an iron in your house, which helps transmit heat to your projects so that it could be easy to melt and transfer various vinyl images. These fabulous vinyl images will perform excellent visual effects to highlight your projects in the crowd. With HTVRONT Easy Heat Press, it's not gonna be a dream to make your fabulous T-shirts, socks, bags, hats, etc.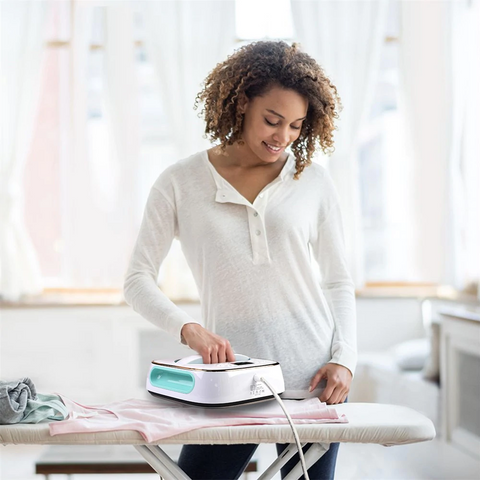 Premium Pressure Display Function
Equipped with 4 semi-conductor pressure sensors, you can see directly on the digital screen of the HTVRONT Easy Heat Press the accurate pressure value. Knowing the pressure you put like the back of your hand, it would be like a breeze to reduce HTV and sublimation ironing errors. What's more, for a novice of handicrafts, this function could help create their own heat transfer designs effortlessly and professionally.
Fast and Even Heating
For bringing users an excellent heating experience, HTVRONT has designed a ceramic-coated heating plate, which can save you nearly 60 seconds of heat-up time compared with a regular one on the market. And guaranteed by its top-quality materials, this heat press machine ensures you with even heat for your projects. In addition, its soleplate adopts durable and high-temperature resistant materials, which can abide deformation & melt. 
Safety Use & Auto Shut-off
Use with safe and sound! Many beginners will be afraid of getting scalded when using a heat press. But working with HTVRONT Easy Heat Press, this will not be one of your concerns. Passed FCC & UL certification, its wire, and plugs have reached the required safety standard. Not to mention its multi-layer thermal insulation materials, insulated safety base, and the auto shut-off feature after 15-min inactivity, this heat press provides customers with the highest safety performance.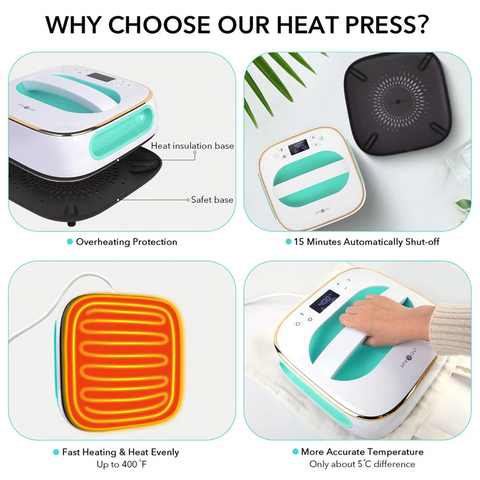 Dual-handles Design
Considering providing users with a much more comfortable working experience, HTVRONT combines the heat press with dual handles according to ergonomic design. With two handles installed on both sides and one on top, the users can operate the machine flexibly and easily. Therefore, it's perfect for working with large and layered projects. This thoughtful and user-friendly dual-handle design makes it very portable and easy to hold while in use.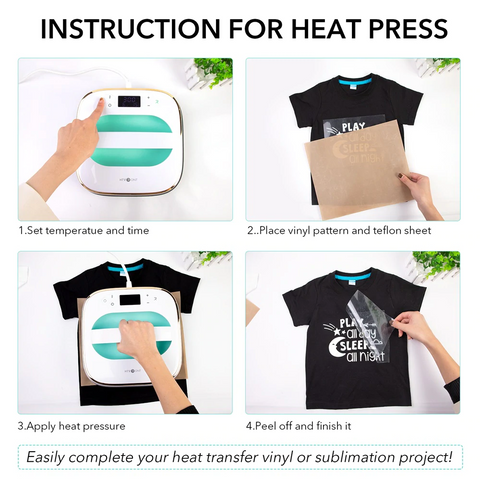 More Color Options
HTVRONT Easy Heat Press now includes two vibrant and bright colors: Mint green and Raspberry Red, which conform to a modern aesthetic design by combining a chrome-plated rose gold decorative ring around it. Meanwhile, the materials are almost recyclable, meeting the needs of environmental protection and sustainable development. 
So how to use this heat press professionally? 
In fact, it's easy to work with this heat press since it's safe and heats up fast. What you need to do is to prepare your weeded materials and t-shirt in advance, set the proper temperature and time, place the vinyl images and Teflon sheet on your t-shirt, and then apply the heat press and enjoy your work! Except for the detailed instructions inside the package box that users can follow to operate, HTVRONT also provides excellent customer service that will help solve problems quickly.