We always hear about "printable vinyl" and "printable htv". Do you know the difference? I know that knowing the differences between the different types of printable vinyl can get a little confusing.

Some of the questions we often see are "how does printable vinyl work?", "can I print on vinyl with a laser printer?", "how to use cricut printable vinyl", "is printable vinyl waterproof?", "can you print on vinyl" and "how to print on vinyl" I will answer all of those questions and more in this blog, so you will understand what printable vinyl or printable htv is and how it works even if you are a beginner.

What is printable vinyl?
Printable vinyl is a permanent craft vinyl that you can print on using your home printer. What kind of printable vinyl you get really depends on the brand. For example, Cricut printable vinyl are temporary, while Htvront Vinyl offers printable permanent vinyl. There is also waterproof printable vinyl out there as well, so it all depends on what you are looking for. (Htvront printed vinyl sheets are waterproof too.)

Printable vinyl is so great because it saves a lot of time and effort without having to perform complex layering, especially when you are dealing with a lot of details or smaller projects. You can print on the vinyl using your own inkjet printer and cut it out using your Silhouette Cameo or Cricut Explore or your other favorite die cut machine.

And printable vinyl paper works like any other kind of vinyl, so you can use it for car decals, mugs, tumblers, laptops, and more! ( Adhesive vinyl  kind)

Application of Printable Vinyl
Printable vinyl works in some way like sticker paper, while it is a little different from sticker paper. Print on vinyl is used for things like car decals, mugs, laptops and the like. Stickers are like that, stickers. Stickers can be used for things like binders and notebooks. Stickers are more like for fun, for kids. And most of stickers are not waterproof. While HTVRont print and cut vinyl is waterproof. The problem with stickers is that if they get wet, they will not last long and the ink will smudge. Therefore, if your thins is supposed to get wet, you are better off going with printable vinyl rather than stickers.

If you are looking for waterproof bright glossy printable vinyl or alternative to Cricut vinyl paper, Htvront printable vinyl paper would be your first choice.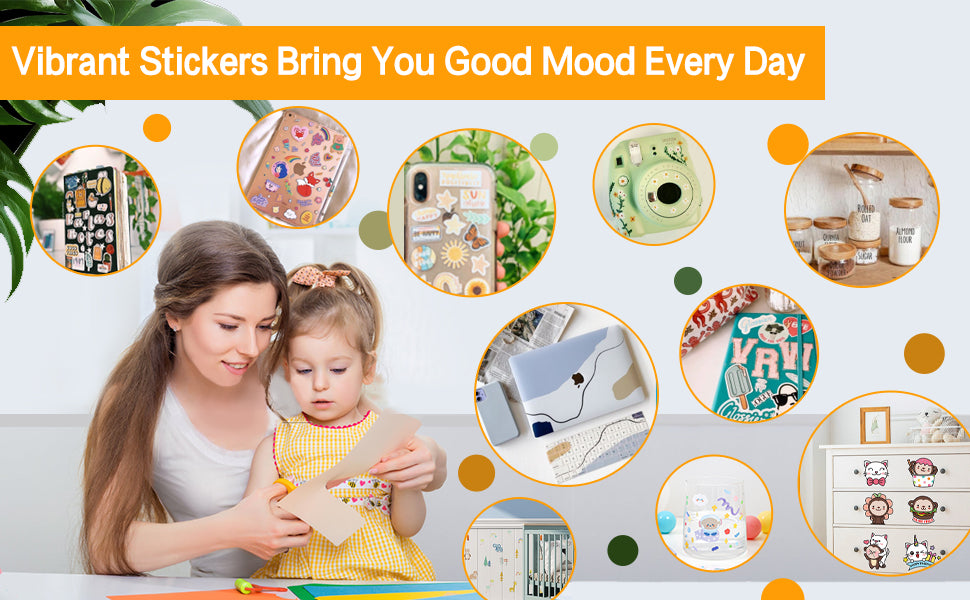 How to Use Printable Vinyl?
How to use printed vinyl? First, preparations! When you use printable vinyl, you would better prepare a regular inkjet printer, not a sublimation printer. Printable vinyl is print and cut vinyl, so first you need to print then cut it. When printing, you also need to make sure you use the correct kind of vinyl. If you can make the printer print high-quality images, so much the better.

The most frequent asked question is that : Can I print on vinyl with a laser print? For most vinyl brands, it is definitely banned out there on the market! Laser printers heat up to as hot as 400 degrees, which could melt your vinyl and damage your printer with the wrong printable vinyl. But not for HTVRont printable vinyl! Htvront printed vinyl sheets are Okay with laser printer.

Besides that, "is printable vinyl waterproof?" is also a frequent asked question. Actually, it also depends on what kind of vinyl you have got. There is not only waterproof vinyl but also non-waterproof vinyl on the market. Again! Htvront printable vinyl is waterproof! You won't destroy your pattern even if you put water on it by accident.

Then, steps!

After the project design is completed, Htvront printable iron on vinyl is installed in the household vinyl printer for cricut. Printable vinyl paper is white on one side, matte on the surface. Print on a matte blank surface.
Follow the instructions to send your design to the printer. Allow the ink to dry before proceeding to cut.
Match the top corner of printed vinyl (liner side down) to the top left corner of your machine mat and load it into your machine.
For Cricut Maker, select Browse all materials, then select the Printable Vinyl setting. For Cricut Explore machines, turn the Smart Set Dial to Custom. Select Browse all materials, then select the Printable Vinyl setting.
Press the flashing Go button.
Peel the vinyl from the liner and apply by hand.


What is the difference between printable htv or printable heat transfer vinyl?
As for the printing, the print way you print on printable heat transfer vinyl (also known as printable iron on vinyl or printable htv) is the same as the way you print on your printable vinyl.

Printable heat transfer vinyl/printable htv is used the same way as regular HTV but it needs an iron of a higher temperature and pressure. Because printable htv needs a high temperature, it's highly recommended that you use a heat press rather than a household iron. Since most irons have uneven heat distribution, small, and not hot enough.
Both Printable vinyl and printable htv are very fun to play with, especially for those who have kids. Let's rock!