Looking for ways to add a glowing element to your next art project? Then, you're right here with glow-in-the-dark powder, your perfect choice to do just that! In this ultimate guide, we'll cover everything you need to know about glow-in-the-dark powder, from what it is, to how to use it, to where you can get it.

Now, let's dive into this interesting topic as fast as we can!

What is Glow-in-the-dark Powder? 
Glow-in-the-dark powder is a phosphorescent pigment powder made up of tiny particles that absorb light energy and then glow brightly in the dark. Many craft lovers like to dot a mundane object with this glow-in-the-dark powder, which allows them to apply it to a variety of artistic scenarios, such as wall murals, home decorations, shiny candles, body lotions, cosmetic beautifiers, paintings, and even crafting slime. And this dark glow powder can also be used on an abundance of surfaces like wood, metal, and plastic.

Once you discover the beauty and miracle beneath it, you can never stop exploring brand-new craft ideas and customizing more and more fascinating and unique projects in your surroundings.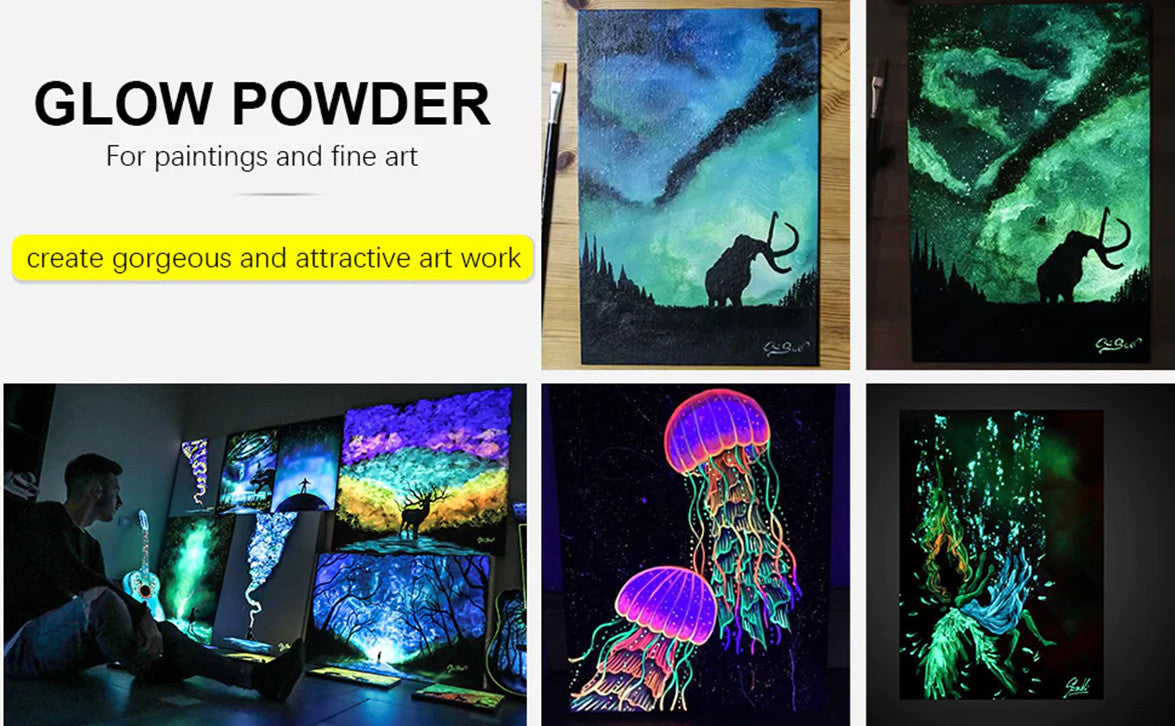 How to use Glow-in-the-dark Powder?
So, I guess you're already very curious and excited to give this magical dark glow powder a try! The salient point is how to use this glow-in-the-dark pigment? As a matter of fact, using glow-in-the-dark powder is relatively easy and straightforward. 

Suppose that you have checked a lot of directions in articles and Youtube videos, then it's easy for you to realize that the most common way to use the glow-in-the-dark pigment powder is to mix it with a medium. 

For instance, you can mingle the powder with all sorts of paint, resin, wax, nail polish, and more in order to create a whole new one with a glowing effect. This way, the final projects you make will shine with excellent iridescent sheen varying from the day to the dark.

It's absolutely fascinating to decorate your ceilings and walls with paint blends. My brother borrowed some of my dark glow powder to do that. And I was genuinely astounded by the galaxy he made in his room! How wonderful can you imagine sleeping under a verisimilar starry sky at night!

What's more, you can also simply sprinkle the glow-in-the-dark acrylic powder onto a surface and then lightly press it in with your fingers or tiny sticks. Add just a bit more light spot, and you can reap the rewards of similar beauty as tons of fireflies wandering in the air.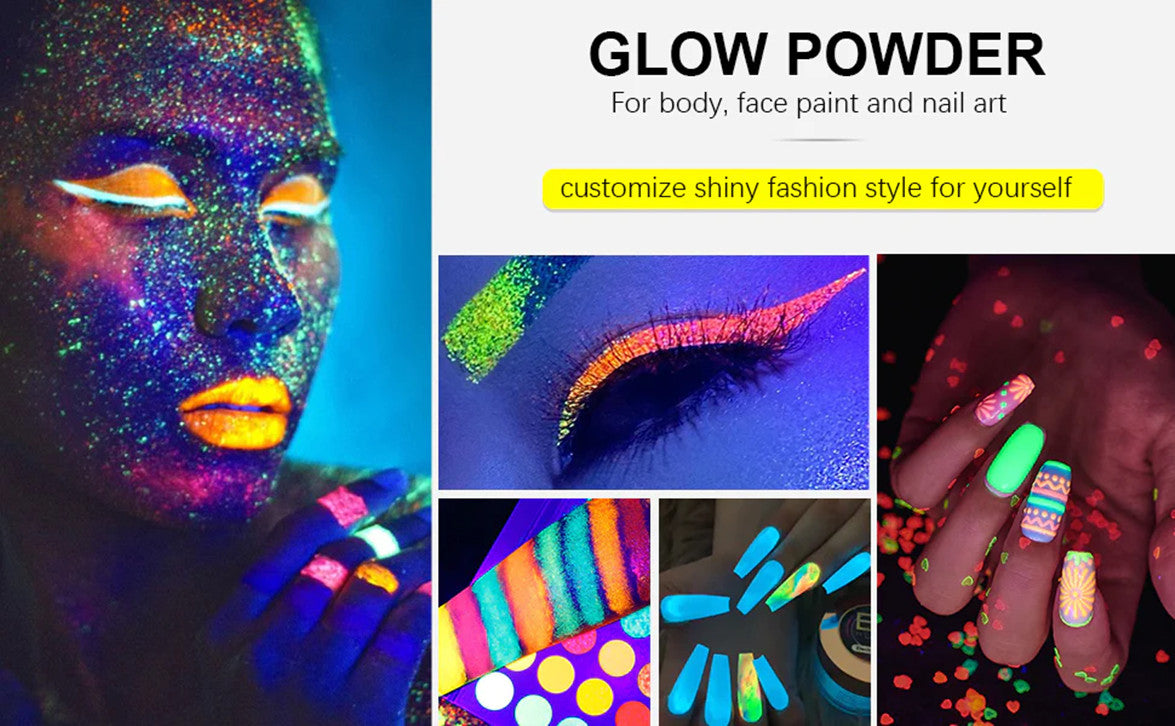 More Tips for using Glow-in-the-dark Powder 
Of course, when using glow-in-the-dark powder, it's essential to implement a few key tips to make better results and avoid failure. 

The most crucial thing you need to concern about during the applications is to follow the recommended blending ratio. The amount of glow-in-the-dark powder to be used cannot overdose on the first use. The rule is that the higher the percentage of the dark glow powder, the brighter and shinier your projects will be. As a result, it would be better to adopt a small amount each time to gradually intensify the brightness. 

First, make sure that the surface you're using is clean and there's no spot of oils and dirt, as this will affect the glow effect. Additionally, you should use light-colored surfaces whenever possible, as dark surfaces can actually absorb the glow and make it less visible. Finally, it's necessary to remember that the dark glow powder needs to be exposed to UV light in order to glow, so it's best to keep the area where you're using it well-lit.

Glow-in-the-dark powder is a fun and easy way to add a glowing element to your next art project. With these professional techniques and tricks above, you can create notable works of art that will glow in the dark.

Best Glow-in-the-dark Powder
After all of those, as mentioned earlier, it's time for you to put the wonderful crafting ideas into reality. Imagine you're standing in front of the door of a craft shop, and which glow-in-the-dark powder should you pick to suit your needs?

As we can see, acrylic glow-in-the-dark powder is widely available in craft stores offline and online. However, since there are a variety of different colors and types of glow-in-the-dark powder, it's important to do your research and find the kind that's best for your project.

For my daily use, the best pick is HTVRONT Glow-in-the-dark Pigment Powder.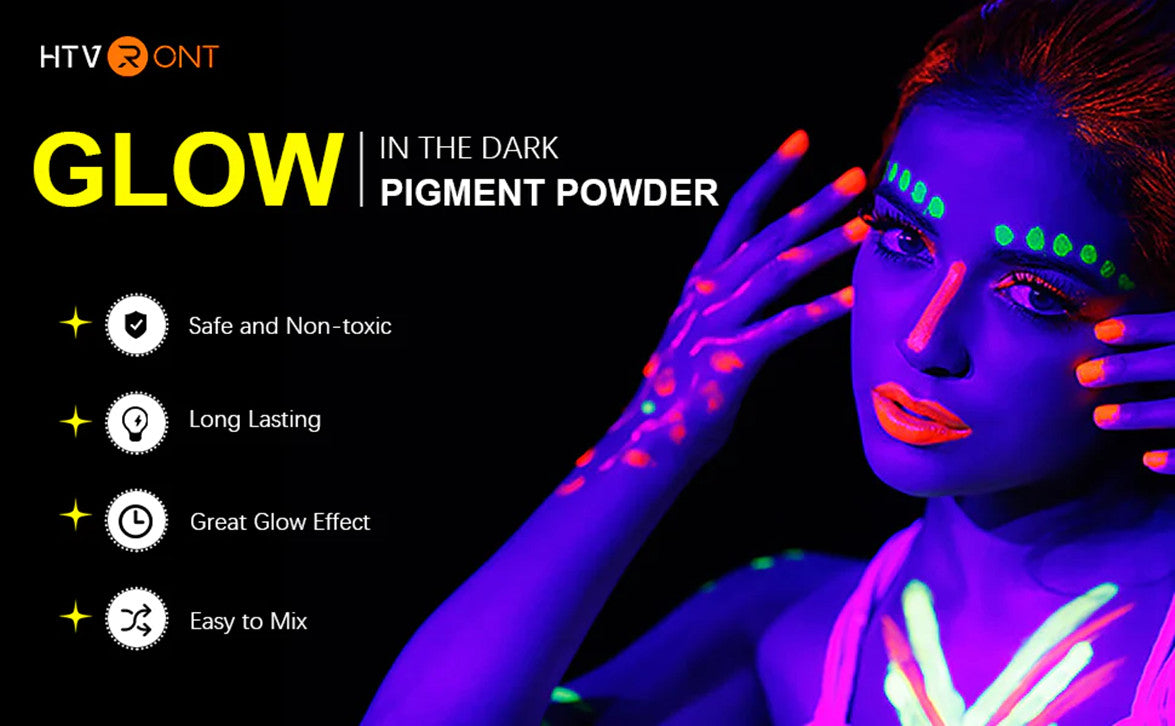 Its 12-color design really helped me solve difficulties in finding the most appropriate color for diverse items and decorations. And they also combine some rare color shades like purple, watermelon red, yellow-green, and turquoise, which are amazing, shining in a dark place. I even use the acrylic glow-in-the-dark powder to embellish my DIY soy candles so that they can shine beautifully when I'm going to have a sweet dream.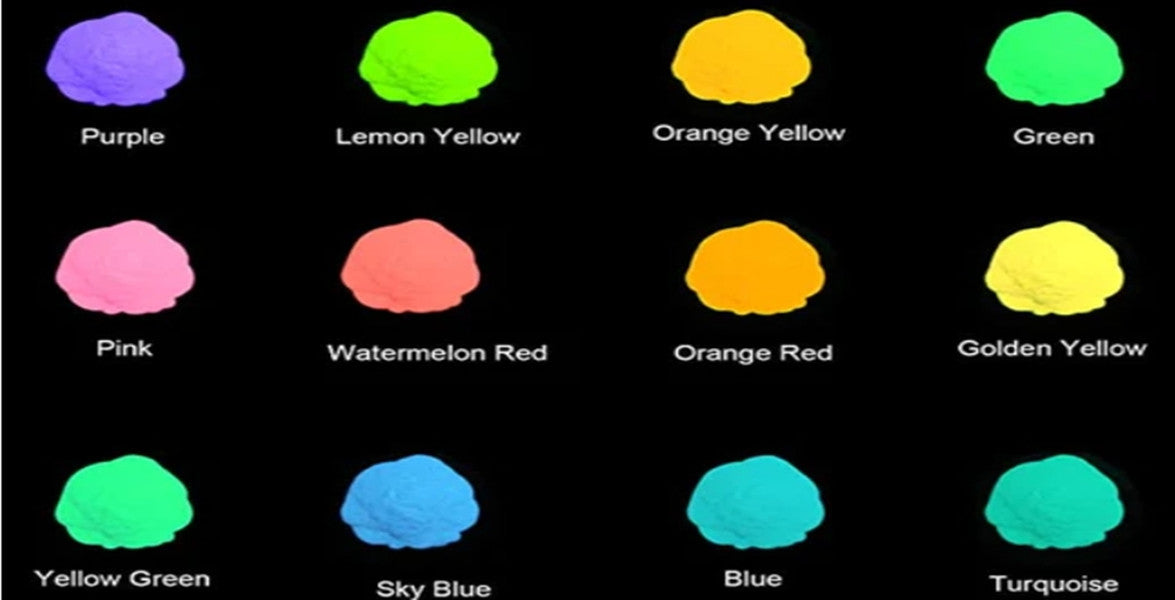 You may then find out that there are four bags of dark glow powder that seem to be in the same white when the light is off, but they actually demonstrate different colors when used at night. They are purple, yellow, green, blue, and turquoise. Sometimes it's even somewhat fun when you bump into an inadvertent one during the use! 

And the bags HTVRONT uses for the glow-in-the-dark acrylic powder feature a rubber seal, which is thoughtful to save the remaining powder safely and dryly. I don't have to worry about affecting the glow and waste caused by inappropriate storage.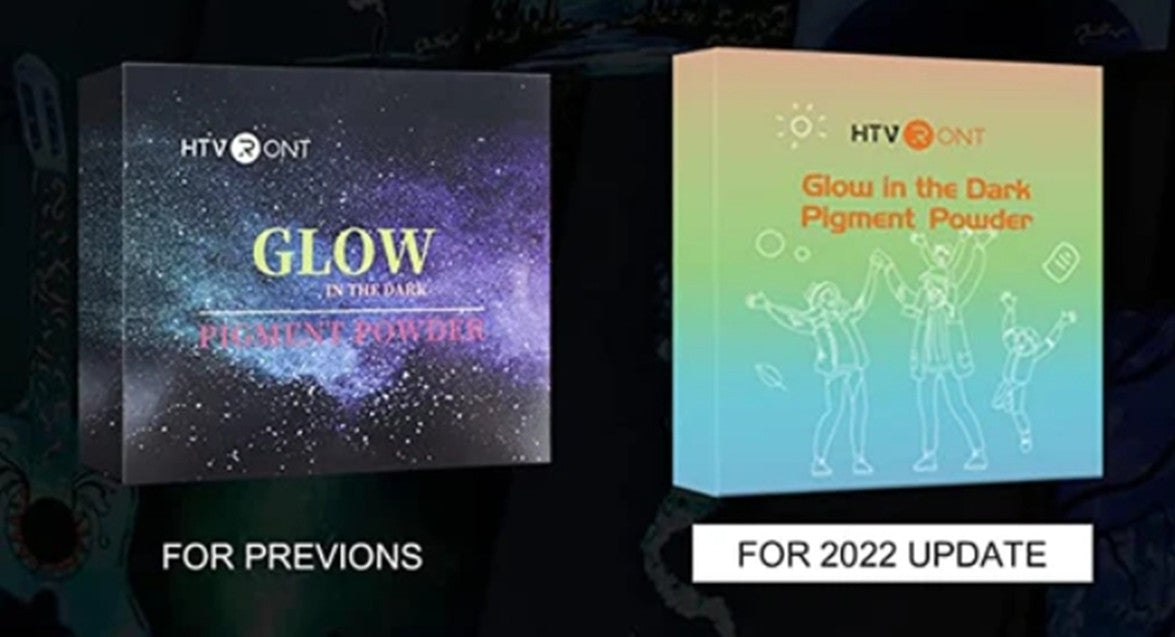 Oh! Right! There's another merit I have to mention is that their glow-in-the-dark pigment powder is non-toxic and kid-friendly. So you are assured of applying it with your family members and having some lovely parent-child time at home!

You can give the HTVRONT Glow-in-the-dark Pigment Powder a shot if you're not sure about your most suitable powder or as a beginner in this crafting area. If you also have other great suggestions, please feel free to share them with us! And we are looking forward to enjoying your innovative designs!